EMD Millipore SabDex Contact Agar + LTHTh - ICR+ (1 Case/200 plates)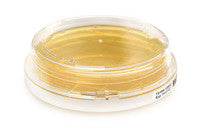 EMD Millipore,
1465010200
---
Designed for the determination of the total viable count of yeasts and molds on dry, sanitized surfaces and personnel in Isolators and CleanRooms.
Common Test Codes related to this product:
Surface, USP 797 Culture Fungal Counts Only, TAT 5-7 Day, Test Code 1206
Surface, USP 797 Fungal Counts with ID, TAT 6 Day, Test Code 1106
Surface, USP 797 Fungal Speciation up to 3 Isolates, TAT 5-7 Day, Test Code 1116
SHIPPING NOTE: Media can only be shipped Monday - Thursday. This Media will ship standard 2-Day delivery. This item will ship direct from the manufacturer rather than with the other items on your order. Actual freight charges from the manufacturer will be applied at time of shipment.
---
Share this Product
---
More from this collection
Liquid error (layout/theme line 392): Could not find asset snippets/trade-orders-code.liquid