MacConkey Agar (Sleeves of 10), Hardy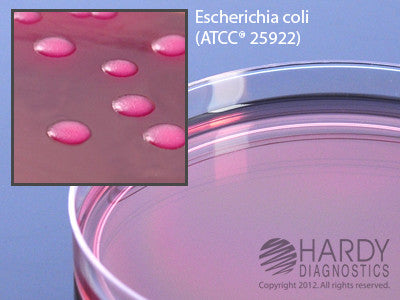 ---
MacConkey Agar, USP, for the culture and isolation of Gram negative bacteria, controls swarming of Proteus, 15x100mm plate, order by the package of 10 plates, by Hardy Diagnostics.
Features:
For the isolation and differentiation of Gram negative bacteria, especially the Enterobacteriaceae group.


Advanced formula controls the swarming of Proteus.


Polystyrene Petri plates feature raised rings for stacking ability and prevents sliding.


Packaged in sleeves of 10 plates in a "breathable" cellulose bag that prevents build-up of condensation and excess moisture. Also available in a box of 100 dishes; see cat. no. G35BX.


The Hardy Diagnostics manufacturing facility and quality management system comply with cGMP's and have achieved ISO 13485 certification as a medical device manufacturer.
Common Test Codes related to this product:
Air, Bacterial Count w/ Full Genus ID - TAT 2-3 Day, Test Code 1005
 Additional test codes for fungal testing can be found here. 
SHIPPING NOTE: Media can only be shipped Monday - Thursday. MUST SHIP OVERNIGHT. This item will ship direct from the manufacturer rather than with the other items on your order. Actual freight charges from the manufacturer will be applied at time of shipment.
---
Share this Product
---
More from this collection
Liquid error (layout/theme line 392): Could not find asset snippets/trade-orders-code.liquid