AP Buck Bio-Culture Pump, 120 VAC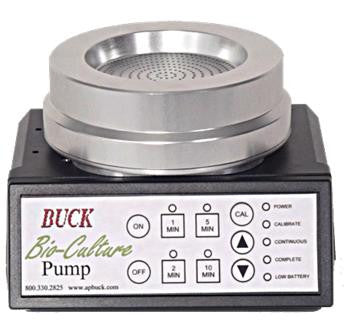 ---
The Buck Bio-Culture™ pump, provides a selectable, continuous, constant sample flowrate and is simple to operate. Its quiet operation allows unobtrusive sampling in IAQ, medical, clean room, public and residential building applications.
The front key pad is organized into three functional key groups: Power (ON-OFF), Timing (1, 2, 5, 10 minute samples), and Calibration (Cal mode, Increase flow, Decrease flow). Positive tactile feedback is provided by the keys. The  Buck Bio-Culture™ Pump has internal NiCad batteries to provide a full six hours continuous run time at 100LPM. The standard charger provides a battery recharge in 12-16 hours and allows the unit to operate on AC power; the optional FastOne™ Charger provides a battery recharge in one hour.  End of sample notice is provided by the lit LED "Complete" and three short beeps. 
* Optional Calibration Head Part no. APB-708500  required to change flow and calibrate the Bio-Culture Pumps.
Common Test Codes related to this product: 
Air, Bacterial Count w/ Full Genus ID, TAT 2-3 Day, Test Code 1005
Air, USP 797 Bacterial Counts with ID, TAT 2-3 Day, Test Code 1107
Air, USP 797 Fungal Counts with ID, TAT 5-7 Day, Test Code 1108
---
Share this Product
---
More from this collection
Liquid error (layout/theme line 392): Could not find asset snippets/trade-orders-code.liquid